What my dressing table (although it's really just a shelf) says about me!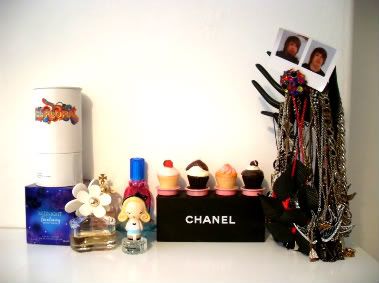 Perfume, chanel, cupcake candles, lots and lots of jewellery & a photo of my boyfriend :)!
Firstly I'd like to point out I recently re-decorated I'm ot usually so tidy aha the chances of this shelf looking like this in a cuple of weeks is not likely.. Moving swiftly on what my shelf could say about me:
I love expensive things! ie.. chanel, marc jacobs, vivienne westwood.. even though these are only bottles of perfume & a box from my glasses.

I also love little cute kitsch type things hense the cup cake candles which my boyfriend bought for me as part of my Christmas present last year.

The photo of my boyfriend :)♥. I just love to look at him really, he's pretty! & he actually bought me most of the stuff on this picture. (the candles, the marc jacobs perfums & most of the jewellery).

I like to smell nice which is why I have a lot of perfume (I only display pretty bottles, I have too much to fit on the shelf).

I'm a minimalist of sorts. I have so much stuff but I'm selective of what I have on show, all white walls with only my favourite things on display :)
So to some up.. I'm minimalistic, materialistic & I love love love my boyfriend!♥..